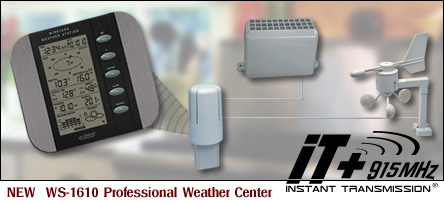 Version 1.1 has the following additional features:
The History Data may be exported as a text file so that the Data may easily be used in other programs.
"Edit" and "Delete" functions are enabled to allow the user to modify a field in the History or Graph Data. The software will verify that the values set by the user are within the proper measuring limits of the weather station. "OFL" will be displayed if a user enters a value which is beyond the limit.
All corresponding Data Templates and Graphs will instantly be updated when the History Data is changed.
It is now more convenient to print each of the individual file types: A "Print" function is available for History files, Template files, and Graph files.
Users may select from "COM 1" to "COM 8" to choose the connection port between the touch screen weather station and the PC.
Perfect Items for the Weather Enthusiast
Heavyweather.info introduces a full line of Professional Weather Centers that are precise, sophisticated, and functional. Compared to similar weather centers on the market, these feature-rich units are very affordable, and include plenty of free software to expand your weather experience.
These units include all sensors necessary at the time of purchase, to monitor your indoor and outdoor environment. Each model includes a free PC interface to record and display all weather data collected. Using other free software available on this site, you may generate detailed graphical reports, publish your current conditions to a website and e-mail the data to friends and family.
Multiple finishes allow you to choose one to match your décor perfectly. Or you may wish to choose the high-tech touch screen model to impress all of your gadget loving friends. Please feel free to explore this site to find the Professional Weather Center that is perfect for you.